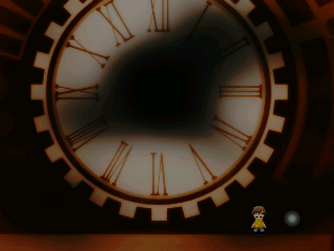 One of the 12 orbs, which are required to unlock the ending. Going top of clocktower takes you here.
Orb is on right-hand side of area. Background is light-brown and a big clock is in the middle of background. Clock has roman numerals and no hands.
Soundtracks
Edit
Soundtrack here is BGM035.
Directions
Edit
Nexus > Stained Glass World > Eyeball tree Orb > Steampunk Town > Clocktower > Here
Connections
Edit