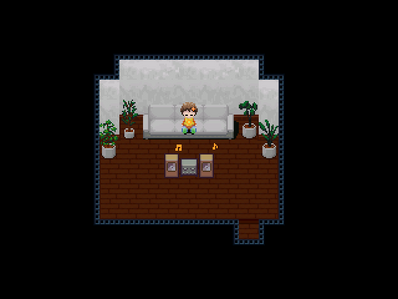 A special place, which is located in the middle of the Monochrome Beach.
House has three parts:
First part of the dreamhouse is a vestibule. There's three different kind of plant on the white pot in front of the white wall. Floor has dark brown parquet and stone tiles. Shoelocker is on the left side of room. Door is located on the right side of room.
Second part is corridor. It's like the previous room, but there's five plants, three shelves and no stone tiling.
Third and the last part is living room. It has light brown stereos in the middle of the room. Four different looking plants and a white sofa are also here. When you interact with stereos, you can change the playing song. There's six different songs in total.
Soundtracks
Edit
You can unlock this place after you've picked every orb.
This area appeared first time on ver. 0.030.
Connections
Edit