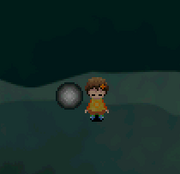 One of the 12
orbs
, which are required to unlock the ending.
The orb is located on the ground. After you collect the orb, you can move left to see a strange machine. Pressing left arrow key causes Chie to look at machine.
The surrounding area is blue-gray and the machine is blue-gray too. It has tentacles under the center eyeball. Center itself is light ball, which holds an iris under the round holes.
Soundtracks
Edit
The music here is BGM036.
Directions
Edit
Nexus > Hexagon World > Rice Field > Park > Here
Connections
Edit