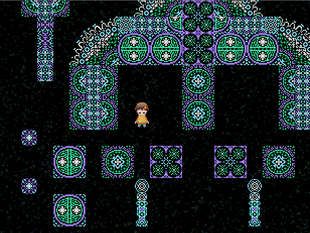 One of the eight original starting worlds.
This area is decorated with glowing patterns that resemble stained glass windows. There are also hexagonal shaped buildings that are decorated with glowing patterns. The main colors of glowing patterns include purple, green, blue and yellow. The background has a dark-blue starry sky.
The Eyeball tree Orb and slug effect are both found here; the entrance to the former is on the right side of a large stained glass building, to the southwest of the Nexus entrance. The slug effect is through a much more ceremonious door, southwest of the Eyeball Tree.
There also is a small door that has a chance of leading to the Monochrome Beach .
Soundtracks
Edit
The music for this area is bgm020.
V.0.020
Inside the buildings.
V.0.030
Inside the buildings.
Connections
Edit