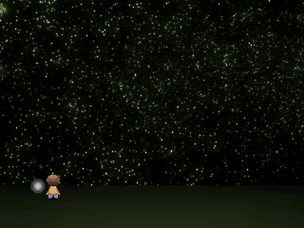 One of the 12 orbs, which are required to unlock the ending. This orb is on third floor of Japanese apartment.
The background here is a yellow starry sky and the ground is dark-yellow. The orb itself is located on left-hand side of the area. Pushing the up arrow key causes Chie to look up at the sky.
Soundtracks
Edit
The music here is BGM050.
Directions
Edit
Nexus > Stained Glass World > Eyeball tree Orb > Steampunk Town > Japanese apartment > Here
Connections
Edit