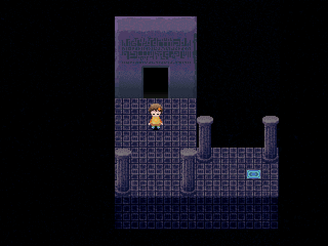 The
Teleport Maze
is a huge maze that resembles some sort of ruins area. Stepping onto blue tile will take you to next another blue tile. The Teleport maze is the only way to get Aquarium exterior.
In v. 0.030, the Teleport Maze has a dark-blue starry sky, several columns and floors, that is filled with little cubes. V. 0.020 is different: the background has big moving cubes and the ground where Chie stands is much simpler.
Soundtracks
Edit
V.0.020
V.0.030
Directions
Edit
Nexus > Atlantis > Sewers > Tile Maze > here
Connections
Edit
The area shares its name and is similar to the Teleport Maze from Yume Nikki, especially in V0.020 and below as it was almost identical to the original's design.